OUR STORY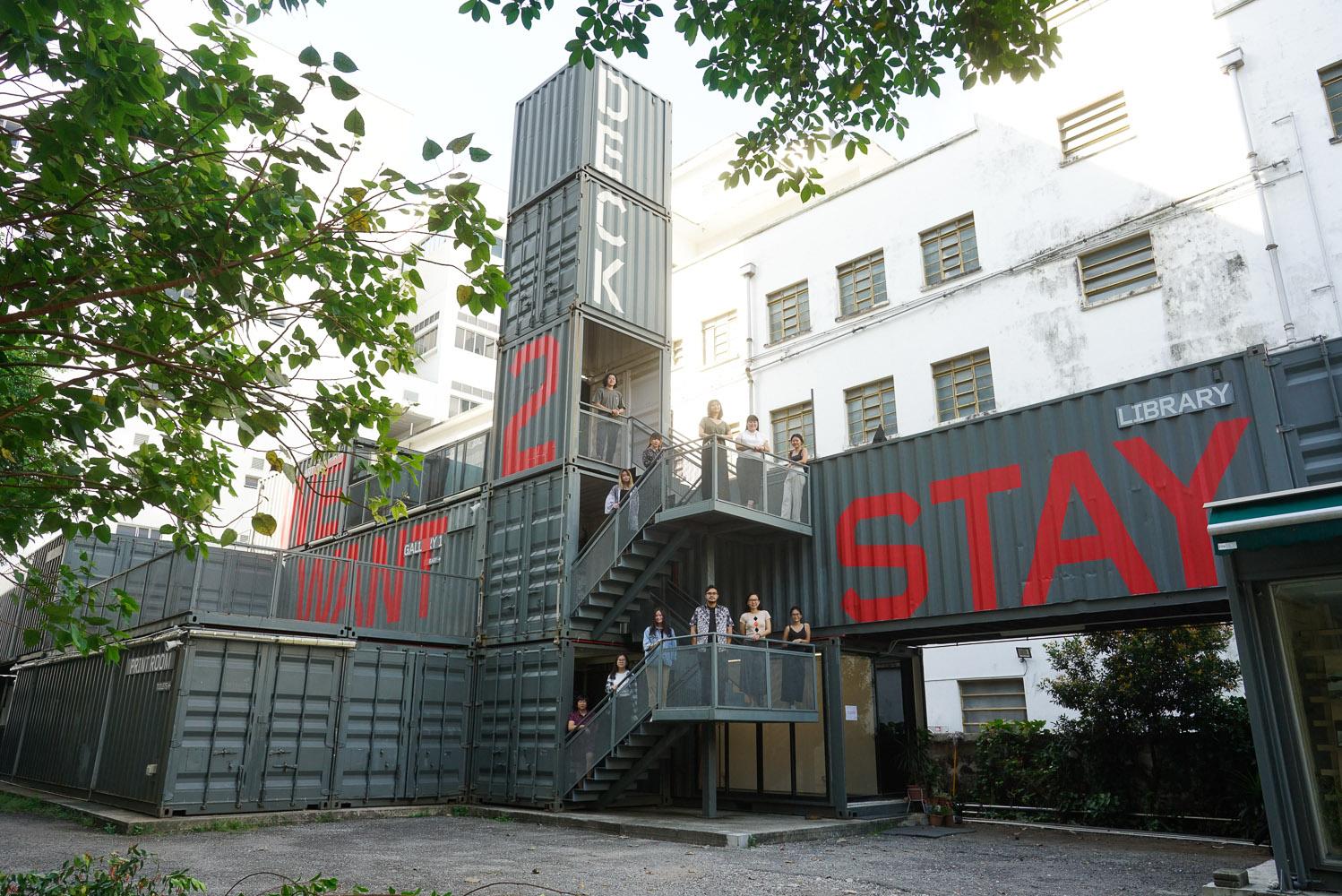 Contact
Dawn Yeong
dawn@deck.sg

Lim Su Fang
sufang@deck.sg

www.deck.sg


Location
120A Prinsep Street
Singapore 187937
2014-2020︎︎︎
First arts container-building in Singapore
From the beginning, the team envisioned DECK to fill a space in the arts where growth can happen organically with the community at the centre of its efforts. It would also support artists through all stages of their careers.
To find a site for our building, our small team roamed the grounds, pitched to several agencies and looked for support in unlikely places. When we finally arrived at a small disused plot of land on Prinsep Street, we activated it and constructed a building with refurbished shipping containers designed by local architect firm LAUD Architects. These containers that made our architectural concept possible were generously donated to us by Pacific International Lines.
As the first arts organisation to build our building since the 1980s, DECK was a landmark project. Most of our donors from 2014 had never donated to the arts before DECK showed us that some people believe passion can actualise untested, off-the-path ideas.
2022︎︎︎
Establishing Singapore as a nexus for photography
DECK's first container-building has reached its end of its lifespan and was demolished to chart a new horizon for photography and media arts. Having a brick and mortar space will provide consistent support to artists, incubate ideas, create sustainable programmes and build relationships.

In this new space, DECK carries its mission to provide a platform for all facets of contemporary arts and photography to the broadest possible audience. Home to the Singapore International Photography Festival (SIPF)—biennially Southeast Asia's flagship photography festival, DECK continues to be an avenue where artists can connect with the larger community through ground-breaking ideas and diverse perspectives.

From showcasing works of local and international artists and retrospective highlights of photography masters, to promoting visual literacy in photography, DECK endeavours to create meaningful partnerships with institutions, schools and artists to provide photography education workshops and programmes.

In the future, expanded space will house more showcases, incubate experimental ideas, nurture new talents and provide more opportunities for mid-career and ground-breaking artists. As DECK moves into its next phase, we hope you share our belief that an alternative is always possible and the community can appreciate the arts through a plurality of approaches.
Milestones︎︎︎
Since 2014, we have been on a journey.

Discovery through photography
Engagement in new ideas
Connection with global voices
Knowledge creation for the community
Exhibitions
4th Singapore International Photography Festival

TYPES: After Becher

A Tree With Too Many Branches

A Dreamer's Muse

Unseen/Unknown

Artist-in-Residence (A.i.R.) with Liana Yang

With Someone Like You

The Two of Them

TRACE 01: To Measure the Depth of the Ocean

Undescribed #1

Club Berlin: Electronic Music and Photography

STEIDL DECK: 1001 STEIDL BOOKS

Mountain and Expanse (Kwek Leng Joo Prize of Excellence in Photography)

5th Singapore International Photography Festival

Daido Moriyama: Prints & Books from 1960s—1980s

TRACE 02: The Photograph as Atlas

Undescribed #2

A.i.R. with Abednego Trianto

The History of Boys: the MES56 and Beyond

OPEN DECK

Incidents in a Sensible World (Kwek Leng Joo Prize of Excellence in Photography)

STATE OF CHANGE

From Darkness to Light (Habis Gelap Terbitlah Terang)

TRACE 03: META-GRAPHY


3DPRK by Matjaž Tančič


TARGETS by Herlinde Koelbl
Theatre of Reality by Chou Ching-Hui


Undescribed #3


ABOVE, BELOW (Kwek Leng Joo Prize of Excellence in Photography)

Professional Development
Artist-In-Residence (A.i.R.)

STEIDL Book Review

STEIDL Asia Book Award Asia

SIPF Book Award

Asia Meet

DECK Associate Creative Programme





International
participation in:
Temple Arles Books, at Les Rencontres d'Arles, UNFOLD (2019)

Shanghai Art Book Fair (2019)

Unseen Photo Fair, Amsterdam (2019)

NOMAD Photobook Showcase at Busan International Photo Festival, THE REFERENCE in Seoul, and Taiwan (2021)

Jimei x Arles International Photo Festival (2021)

Hong Kong International Photography Festival (2021)
TRACE 04: AESTHETICITY

Of Frames and Passing Time — The Gift of a Year

6th Singapore International Photography Festival

Between Love and Death: Diary of Nobuyoshi Araki

A.i.R. with Tristan Cai

PRINT ROOM: COLLECT

新加坡特快 SINGAPORE EXPRESS

A State of Affairs (Or The Way Things Are)

Undescribed #4

The Aesthetics Of Disappearance

the tree is the leaf is the land (Kwek Leng Joo Prize of Excellence in Photography)

A.i.R. with Hu Qiren

Dunman Higher

PRINT ROOM: In Every Change of Season

Reading Photographs: A Showcase For Seenthesis Publication

It's Strange I Feel Like I've Seen This One Before

GAP: A Distinct to Reality

PRINT ROOM: Speak Softly. Speak Low.

Undescribed #5

MMCC—mediated/movement/choreographic/collaboration

A Self I Once Knew (Kwek Leng Joo Prize of Excellence in Photography)

7th Singapore International Photography Festival

Inside Out Singapore

Afterlife by Vasantha Yogananthan

Loose Relations by Sherman Ong

SGscenery2020 by George Wong

ThisConnect: Threading Worlds by Hunny & Lummy

Undescribed #6

A Studio of One's Own




Publications


TRACE 01: To Measure the Depth of the Ocean

TRACE 02: The Photograph as Atlas

DECK Journal of Photography

Asia 8 with Steidl Publishing

Seenthesis: Visual Literacy through Singapore Photography
DECK-ing Good Times ︎︎︎ DECK-ing Good Times ︎︎︎ DECK-ing Good Times ︎︎︎ DECK-ing Good Times︎︎︎